BENEFITS TO THE FIDUCIARY, TRUSTEE AND LEGAL PROFESSIONALS

"Our mission is to help the Estate Planning community, trustees and family members with an efficient, systematic and smooth sale of their Real Estate property."
PROBATE AND TRUST SPECIALIST
● Miguel has a thorough knowledge of the needs of the Fiduciary, Trust Officer or Attorney
since he served as a Private Fiduciary for 10 years
● Our team normally participates in the earlier stages of the case where Real Estate will have
to be sold. We have a support team that includes contractors, staging professionals,
photographers, field support and inspectors. This will make us a one-stop shop, allowing
for an easier coordination with a single point of contact.
● We add an additional layer of protection to the Estates and Professionals that we
handle with the systems and procedures we use for recording and reporting every step of
the transaction. These systems were perfected after 17 years of sales experiences and of
course, by having the "insider" perspective of Miguel as a former Fiduciary.
● Our bi-cultural and bilingual team will support your expansion to cross cultural and
international clients and cases.
● Up to date technology, systems, use of electronic signatures, paperless environment,
and mobile access to documentation, will facilitate fast, accurate and easy access to
information.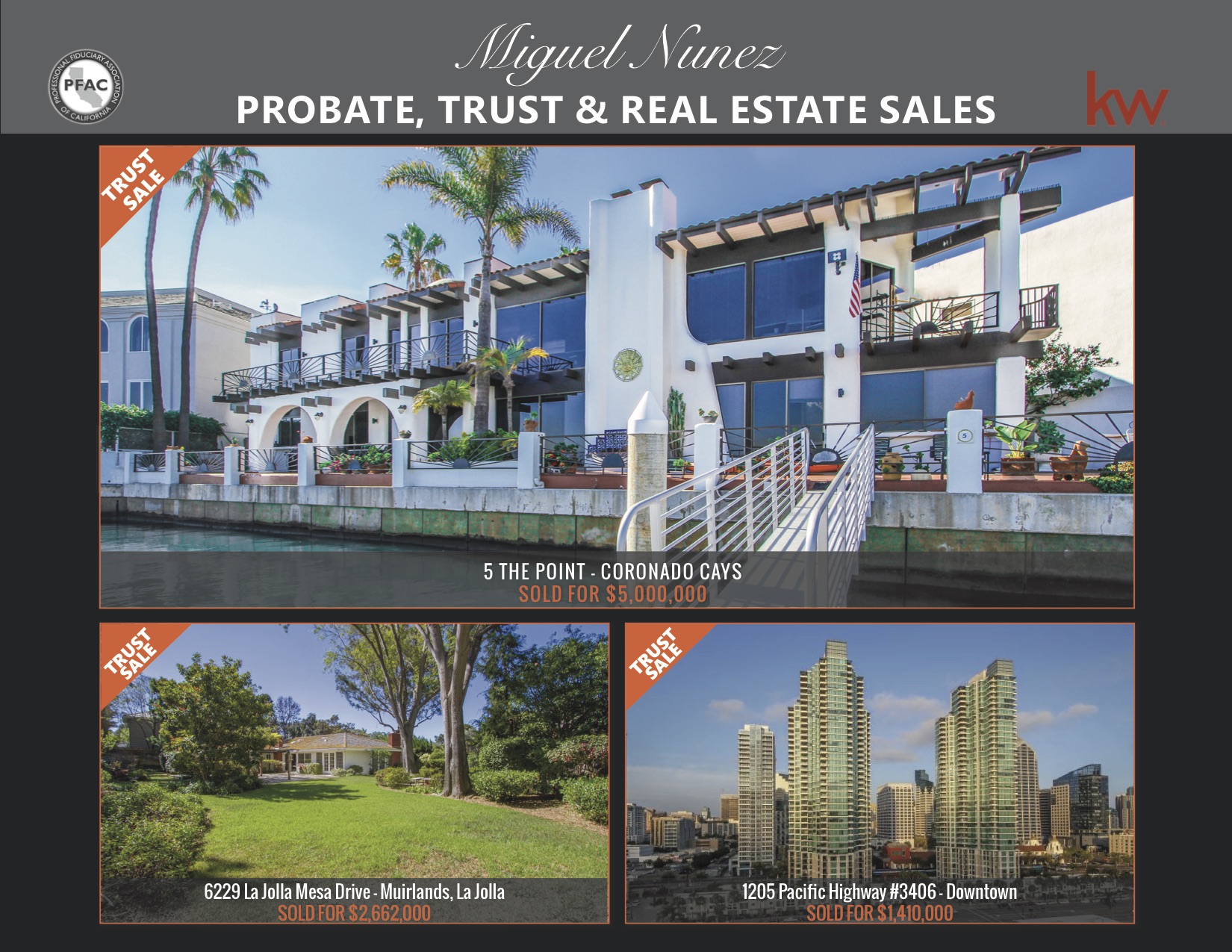 Top 5 Reasons To Hire Miguel Nunez & Associates for your Probate & Trust Sales
1. Practiced as a Private Professional Fidiuciary from 1995-2004. Currently holds the position of Emeritus Member with PFAC, Professional
Fiduciary Association of California.
2. As a Private Fiduciary he served as Court Appointed Conservator of the Estate, Successor Trustee, Administrator and Executor in cases
that included Special Needs Trusts. As a Realtor, he supports the fiduciary, trust and legal community with residential and commercial sales,
property price opinions, Title searches and any Real Estate related inquiries in any property nationwide.
3. Education: Civil Engineer with MS in Construction Manangement. He has 15 years of experience in the Construction Industry (1980-1995)
4. Associated with the following community and professional associations: Scripps Health Gift Planning Advisory Board, North County Estate
Planning Council, Strategic Trusted Advisors Round Table, San Diego Association of Realtors, National Association of Realtors, and La Jolla Board of Realtors (REBA).
5. Designations: Luxury Sales Agent and Global Properties Specialist with Keller Williams.Languages: English & Spanish (Native)